Seafood and Ports
RS has worked with the Seafood and Ports sector for over twenty years, at the forefront of national and international supply chain assurance. Our unrivalled knowledge and expertise has been instrumental in the development of certification schemes covering every seafood sector, from fishing ports, responsible fishing, fisheries management, and aquaculture through to marine ingredients production and processing.
RS offers the international Seafood and Ports Sectors expert advice through our key services of Consulting and Benchmarking, Sustainability support and Multistakeholder initiatives. This can involve risk assessment support and the provision of management frameworks and tools that deliver effective resilience, market advantage and risk mitigation in operations and in seafood supply chains.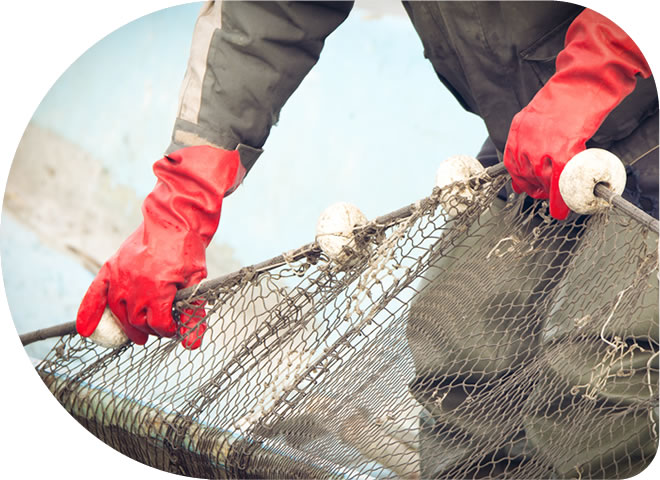 We can help you build resilience against the hazards that impact health, welfare, productivity and the supply of safe, high quality, nutritious seafood.
The primary production and processing sectors need 'context appropriate' and practical standards that can stand up to scrutiny and high integrity benchmarking. The RS team are global standards and assurance experts and have assisted in the creation of leading edge standards. As an example our team have had key support roles within the following national and international assurance programs connecting us with an array of direct and indirect clients:
Responsible Plastic Management Standards
Coordinated Local Area Management Systems
BRCGS Global Standards
Responsible Fishing Vessel Standard (GSA- Global)
Responsible Fisheries Management (Alaska, Iceland, Louisiana)
Responsible Sourcing and Production of Marine Ingredients (MarinTrust- Global)
Best Seafood Practices Standards (GSA)
FairTrade USA
Organic Aquaculture (Canada and EU)
Label Rouge and other Product Quality Standards (Global)
Chain of Custody and Traceability Verification (Global)
The RS team is composed of aquaculture, fisheries and supply chain experts with accreditation, certification and subject matter expertise. We are typically engaged by organisations that want or need to show leadership for product, service or program integrity.
We have unrivalled competence, confidence and experience in Sustainability, Traceability and Product Integrity Standards and our clients engage us for development, benchmarking, training and consulting services.
Please review our services and feel free to contact us for an initial discussion.
Consulting & Benchmarking
Sustainability Support Services
Multistakeholder Initiatives